Best Breakfast Spots in Eugene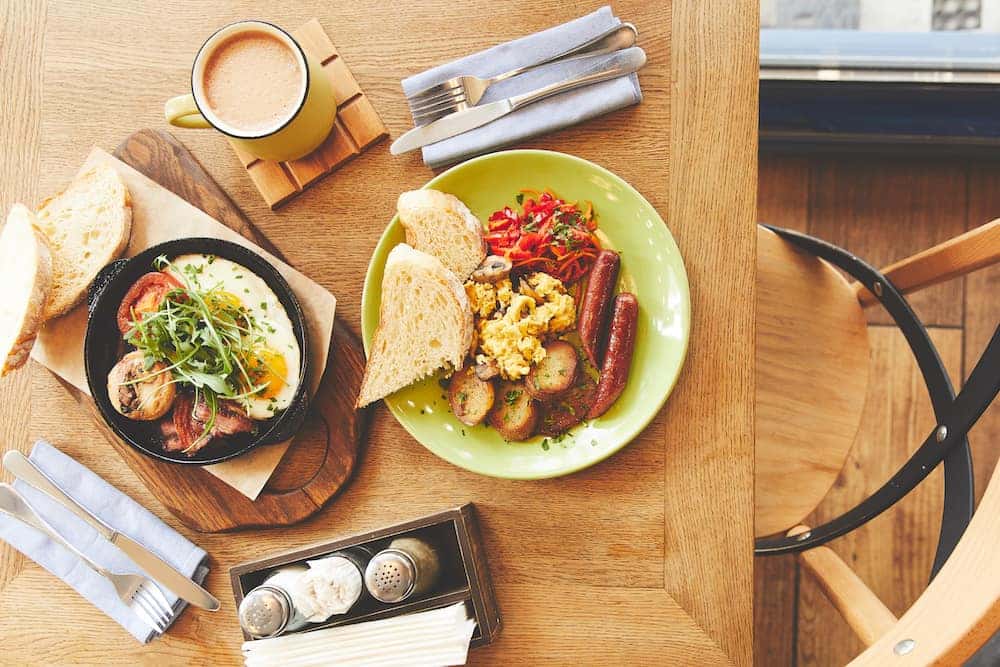 Choosing the right Mazda SUV can be a challenge – there's so much good stuff to compare! Fortunately, getting a good meal near Wilsonville is easier at these breakfast restaurants in Eugene. Pick your favorite and, before you head out on your tour of Salem, enjoy some tasty comfort food with friends.
Cornbread Café
This 100% vegan cafe delivers comfort food without the cruelty. Stop by and enjoy southern style biscuits and gravy, delicious grilled "chicken" and "bacon" sandwiches, egg fu Benedict, French toast, burritos, and gluten-free options as well. The food here is so good even Guy Fieri recommended it!
Location: 1290 W 7th Ave, Eugene, OR
Hours: Monday – Saturday, 9:00 AM – 9:00 PM; Sunday, 9:00 AM – 3:00 PM
Off the Waffle
For more traditional food with a definite Oregon flavor, consider Off the Waffle. It's just a short drive from Eugene and well worth the trip for a bite of crisp goodness. They specialize in, you guessed it, waffles with sweet, savory, and in-between options, as well as sides like farm fresh eggs, bacon, compote, and of course Maple syrup. If you can't make it in don't despair – they ship.
Location: 2540 Willamette Street, Eugene, OR
Hours: Monday – Sunday, 8:00 AM – 2:00 PM
The Vintage
If you find yourself with a craving for crepes, then The Vintage is the place to go. Not far from Keizer, this quaint eatery serves a variety of sweet and savory crepes for brunch as well as all of the traditional sides including potatoes, toast, ham, bacon, fruit, mimosa, and even a delicious Vintage Bloody Mary.
Location: 837 Lincoln Street, Eugene, OR
Hours: Monday – Thursday, 11:00 AM – 10:00 PM; Friday – Sunday, 9:00 AM – 10:00 PM
Glenwood Restaurant
Glenwood is one of the most popular breakfast spots in Eugene for a good reason. People come from miles around to enjoy tempting favorites like Eggs Benedict, specialty scrambles, omelets, French toast, and more all with a heaping side of potatoes and friendly hometown atmosphere.
Location: 2588 Willamette Street, Eugene, OR
Hours: Monday – Friday, 6:30 AM – 9:00 PM; Saturday – Sunday, 7:00 AM – 9:00 PM
What are Your Favorite Breakfast Spots?
So, what do you think? Did your favorite make the list? Let us know in the comments section below and then visit our other restaurant recommendations including where to find the best ramen in Portland. And, while you are in Portland, make a pit stop at the Portland Library to take in this historical landmark!
Want some Salem recommendations? Learn more about our favorite restaurants in Salem and best delivery restaurants in Portland! From Mazda CX-5 colors, to low gear FAQs, to restaurant tips, our team is here to help you make the most of your time around Salem.
---
More Salem Area Attractions and Tips
The Portland Public Library, now known as the Multnomah County Library, is at the heart of the Portland community. Learn more about the history and FAQs about this Portland staple from the locals at Power Mazda! Contact Us Portland Library History The creation of the Multnomah Country Library began in 1864 when a small group of…

If you're leaving the Portland library and find yourself craving ramen, we at Power Mazda have a few restaurants in mind. Whether you're seriously hungry or just need a new casual spot to enjoy some ramen with friends, we recommend some of the best ramen in Portland. Learn more at Power Mazda. Contact Us Escape Rooms in…

It's almost that time of year again and, if you've been racking your brain for ways to show that special someone how you feel, you can relax. We've collected suggestions to help you give your sweetie a day of pampering you and your Wilsonville sweetie won't soon forget. Read More Things to do in Salem…