2018 Mazda CX-5 vs Kia Sportage

The 2017 Mazda CX-5 and Kia Sportage represent two of the top small crossover SUVs, with engaging rides, streetwise comfort, and savvy tech features. Which is more your style? Our comparison guide is here to help you decide.
2018 Mazda CX-5 vs Kia Sportage
Cabin Comfort: 2017 Mazda CX-5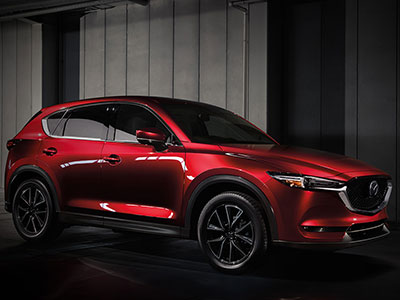 This category goes to the CX-5, a small crossover SUV with smooth style. Really–it's quite literally smooth, absorbing imperfections in the road to increase your ride comfort. Even though this is a compact crossover, the cabin feels airy, with plenty of head room for tall people, even in spite of the sunroof. The cabin materials look rich, with expensive-looking leather, chic metal trim, and plenty of soft-touch materials for your enjoyment.
The Kia Sportage keeps things simpler, but with impressive results. Cabin materials may not be quite as swanky as what you'll find in the CX-5, but you won't hear any squeaks or rattles as you speed down the highway. The Sportage also offers outstanding passenger space, with enough head and leg room for a basketball team.
Power & Performance: 2017 Mazda CX-5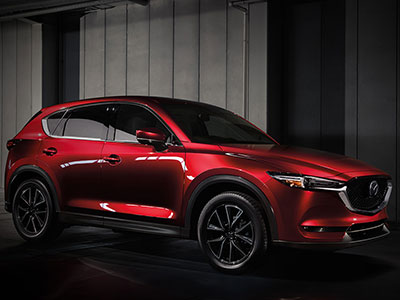 The CX-5 lives up to Mazda's reputation for sporty driving. Around turns, this crossover is quick and responsive, boosting driver confidence in busy city squares and close-fitting mountain roads. If you want an especially athletic ride, switch the CX-5 into Sport mode. In this setting, your crossover will hold gears with enthusiasm, taking acceleration to the next level.
This new Sportage is tuned for greater comfort, surpassing previous models with its smooth ride. In addition to absorbing any bumps in the road, this crossover offers composed handling. That handling certainly inspires confidence as you make your way down unfamiliar country roads or less-than-impressive bumpy paved streets. The Sportage may not be as athletic as the CX-5, but you'll always enjoy a quiet highway ride.
Technology: 2017 Mazda CX-5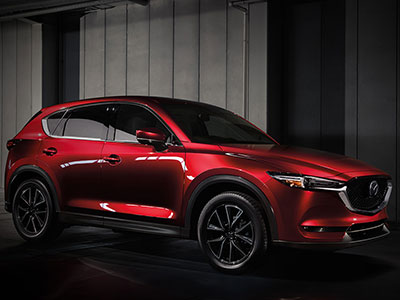 The 2017 Mazda CX-5 introduces a lot of technology, including an intuitive 7-inch touchscreen that makes it easy to find the app you require. The touchscreen sits atop the dash, so it's easy to follow navigation directions. With up to four USB ports, the whole family can keep their devices fully charged throughout any road trip.
Like the CX-5, the 2017 Kia Sportage keeps you connected with its Uvo infotainment system. It includes complete smartphone integration with Apple CarPlay and Android Auto technology, displaying helpful apps like Maps and Phone directly on your central screen. There's just one catch – you have to upgrade to the mid-grade Sportage EX to enjoy all of this technology, whereas all CX-5 models come standard with Mazda's Connect infotainment system.
Safety: 2017 Kia Sportage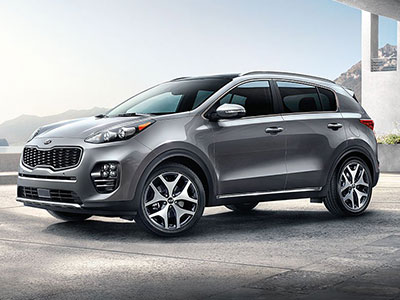 In the passenger protection department, the Sportage comes out on top. We like its Uvo telematics system, which is prepared for just about any unexpected situation, with features ranging from roadside assistance to emergency notification. You can also equip this crossover with high-tech driver aids that sense problems before they can become dangerous, like automatic emergency braking and lane-departure warning.
All 2017 Mazda CX-5 models come standard with forward collision braking support, but this technology only works at low speeds. If you want a more capable system that works at higher speeds, you can always upgrade. You won't find emergency telematics in this crossover, but optional driver aids like rear cross-traffic alert and lane departure warning help you avoid dust-ups.
Learn More about the Mazda CX-5

The 2017 Mazda CX-5 and Kia Sportage have a lot in common – like roomy cabins and high-tech safety gear. But the CX-5 outdoes the competition with its upscale cabin design, materials, and plush comfort. Mazda's take on technology is also impressive – and every model comes standard with the infotainment system, so you don't have to think twice about streaming music from devices or making hands-free calls. You also can't help but love the CX-5's sporty, engaging ride.