2018 Mazda CX-3

A subcompact crossover SUV may never have been on your radar, but we're betting you'll change your mind quickly when you see the 2018 Mazda CX-3 in action. While a smaller SUV like the CX-3 is not the choice for heavy-duty people hauling or trailering, this sharp-looking and even better performing SUV is practically perfect in nearly ever other way. Here's what you can expect from the superb Mazda CX-3.
2018 Mazda CX-3
We buy with our eyes first, so how any vehicle looks is easily one of the biggest factors in determining how successful it will be in the market. And vehicles don't get much more attractive than the CX-3–and we're not just talking about subcompact crossovers. For anyone who doesn't already know, the CX-3 represents the absolute embodiment of Mazda's "Kodo" design language, but all you really need in order to understand that fact is half-decent eyesight. The CX-3 really is one of the most attractive subcompact crossover available right now, and if we expand the parameters to include all sizes of mass-market and luxury crossovers, it's still hard to think of anything more attractive.
One of the reasons buyers go down the subcompact route is because they usually deliver pretty good fuel economy ratings. Obviously that's not always necessarily true, but it certainly is here with the CX-3. The EPA-estimated ratings for the 2018 Mazda CX-3 are 29 mpg in the city, 34 mpg on the highway and 31 mpg combined for front-drive variants, or 27/32/29 mpg if all-wheel-drive is specified.
Generally speaking, subcompact and even compact vehicles are not usually regarded as being as safe as bigger models. Mazda could have done what other automakers have done, paying as little attention as possible to safety in favor of style and features, but they haven't. The CX-3 is actually a pretty safe little vehicle, confirmed by the ratings from both of the major safety agencies. The NHTSA gives the CX-3 its full five-star rating for overall safety, while the IIHS also awards the Mazda its highest rating of Top Safety Pick+. To be honest, it's really hard for any vehicle to fare better than that.
Like almost every model Mazda produces today, the CX-3 really does deliver when it comes to the experience of driving. It effortlessly communicates the road through the wheels, inspiring confidence and delivering the kind of sporty character the exterior styling promises in a segment where driving thrills can sometimes be pretty thin. Just one engine is available with the little Mazda, which is a 2.0-liter Skyactiv-G developing a totally symmetrical 146 horsepower and 146 lb.-ft. of torque. The transmission is a six-speed Sport automatic with manual shift and Sport Mode, and buyers can opt for the standard front wheel drive or the all-wheel drive option. The 2.0-liter Skyactiv-G might not be the most powerful engine in the crossover world right now, or even in this particular segment, but the extremely light curb weight delivers an agile and lively experience. Believe it or not, the CX-3 drives almost as good as it looks–and that's saying a lot.

CX-3 Grand Touring
The look of the 2018 Mazda CX-3 Grand Touring is what you might expect from the top trim of this popular crossover: refined, impressive, and attractive. The interior is no slouch either, with many of the perks that you might find in luxury models. Heated leather seats with suede inserts, a BOSE surround sound system with 7 speakers, a 7-inch touchscreen for access to your integrated infotainment systems, sliding moonroof, and even pollen filters to keep the cabin clear of allergens. Performance is, of course, also at a premium, with active safety features like blind spot monitoring and rear cross traffic alert.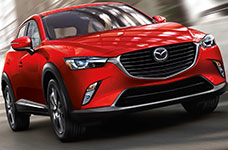 Unique Exterior Styling
The 2018 CX-3 has a look all its own, with a flattened front fascia and athletic stance that will help it stand out in a crowd.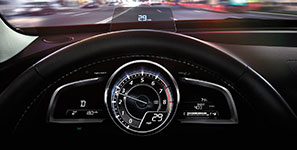 Futuristic Dash
Get your gauges and driver information in a stylistic, forward-thinking design.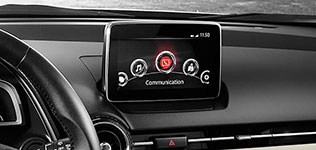 Mazda Connect
Access your integrated infotainment system with an easy-to-use touchscreen and stay connected while you're on the go.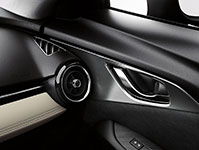 Metallic Interior Accents
The 2018 CX-3 offers a refined, polished interior design, including upscale metallic accents.