2017 Mazda MX-5 Miata RF

Pack a bag, drop the convertible top, and imagine jumping in the brand new 2017 Mazda MX-5 Miata RF to leave your worries behind. Even on days when you can't make it out of town, cruising the highway in this bad boy feels like the ultimate luxury -especially around tight turns.
2017 Mazda MX-5 Miata RF
Now lighter than previous models, the 2017 Mazda MX-5 Miata RF puts a new spin on the word nimble. It offers driving enthusiasts the ability to sail around corners with satisfying skill with precise handling and steering technology. Under the hood, the MX-5 gives you plenty of horsepower for quick acceleration. It's no Corvette, but the majority of your highway compatriots will have trouble keeping up. When you add Brembo brakes, you'll get high-end stopping performance that brings you to a halt over impressively short distances.
The 2017 Mazda MX-5 Miata RF cabin is designed to provide high-end luxury. The leather-wrapped steering wheel and glitzy leather upholstery make you feel like a million bucks (though the Miata certainly doesn't cost it!), and additions like heated seats and bolstering keep you comfortable in harsh climates and on challenging drives. Even while it delivers incredible athleticism, the MX-5 Miata RF maintains impressive ride comfort, smoothing over any bumps in the road.
Technology is another of the MX-5's top selling points. Mazda has placed the 7-inch touchscreen atop the center stack, directly in your line of sight, so you can focus on the road ahead. Connectivity features, including Bluetooth, offer the smartphone integration you need, and two USB ports give you charging options.
Safety is a priority for the 2017 Mazda MX-5 Miata RF, evidenced by its impressive range of driver aids. Blind-spot monitoring and lane departure come standard, giving you peace of mind as you take to the road.

MX-5 Miata RF Grand Touring
The MX-5 Miata Grand Touring is the kind of roadster you expect to see taking a jaunt down California's seaside mountain highways. It comes standard with a number of jaw-dropping luxury features, including seductive leather upholstery. The Grand Touring also takes convenience to new levels. For example, its auto-dimming mirrors with exterior heating melt frost on brisk mornings, giving you one less thing to worry about.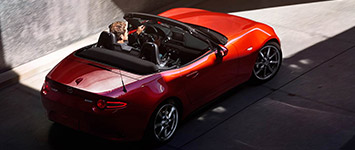 Sculpted, Streamlined Body
The MX-5 Miata's head-turning power is at full tilt.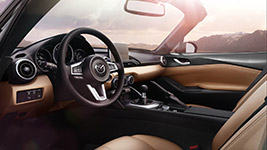 Driver-Centric Cockpit
Everything you need is always at your command.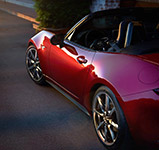 Folding Hardtop
Tuck in the MX-5 Miata's hard shell to feel the wind in your hair.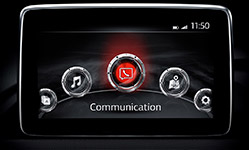 Voice-Activated Infotainment
Stay connected without ever taking your hands off the wheel.
Conclusion
The 2017 MX-5 Miata RF will surely attract buyers with its sporty-yet-upscale take on style and an incredibly streamlined performance. Part roadster and part coupe, he MX-5 Miata RF offers you the best of both worlds with a removable hardtop and a combination of convenient features, safety options, and impressive performance that will have you singing its praises.