2017 Mazda CX-9

With its smooth, refined ride and rich interior comfort, the 2016 Mazda CX-9 stands apart from other Mazda models. It's designed to give the people what they want in a three-row mid-size crossover: all-around luxury. On the road, the CX-9 is responsive, delivering quick access to generous power upon request. Inside, the CX-9's handsome design will remind you of a luxury SUV. With three rows of supportive seating, this model provides incredible accommodations for the entire family.
2017 Mazda CX-9
Even if you're familiar with Mazda's consistent quality, the 2016 Mazda CX-9 cabin will surpass your expectations. You'll find impressive fit and finish throughout, and high-end details, like rosewood or aluminum trim, add an upscale flourish. With three rows of roomy, supportive seating, the whole family has plenty of space to spread out and enjoy the ride. When you opt for leather upholstery, you'll enjoy even greater passenger comfort. Behind the rear seats, the 2016 Mazda CX-9 provides 14.1 cubic feet of cargo space – plenty of room for major shopping hauls. The cargo hold also hosts an under-floor bin, where you can stow valuables out of sight.
In addition to premium comfort, the 2016 Mazda CX-9 is stocked with all the latest in tech and convenience gear. Mazda's Connect infotainment system is perfectly placed in your line of sight, so there's no need to glance down, away from the road. Its smartphone integration options give you the power to stream music from devices or make hands-free calls, and you can use the CX-9's two USB ports to keep those devices charged on the go. There's also a heads-up display, which projects vital stats, like your current speed, onto the windshield, to minimize driver distraction. It can even display turn-by-turn directions, which really comes in handy when you find yourself in a new city.
The CX-9 tech lineup doesn't end there. When it comes to passenger protection, this crossover provides a suite of driver aids to help you spot danger before it can become an issue. For example, the frontal collision mitigation system warns you of an impending crash. It can even automatically apply the brakes at speeds of up to 18 mph. The lane-keep assist system intervenes to help you stay between the proper white lines. All CX-9 models are equipped with a rearview camera, making it easy to spot any bicycles or skateboards that might be lingering in your driveway.
On the road, the 2016 Mazda CX-9 continues to shine. Its powertrain is smooth and responsive. That means that, in addition to enjoying substantial ride comfort, you get up to highway speeds in no time. Add all-wheel drive to your CX-9 for improved driver control over slick or icy pavement. Properly equipped, these steadfast crossovers can tow up to 3,500 pounds. The CX-9, then, is a great pick for lovers of Jet Skis and four-wheelers.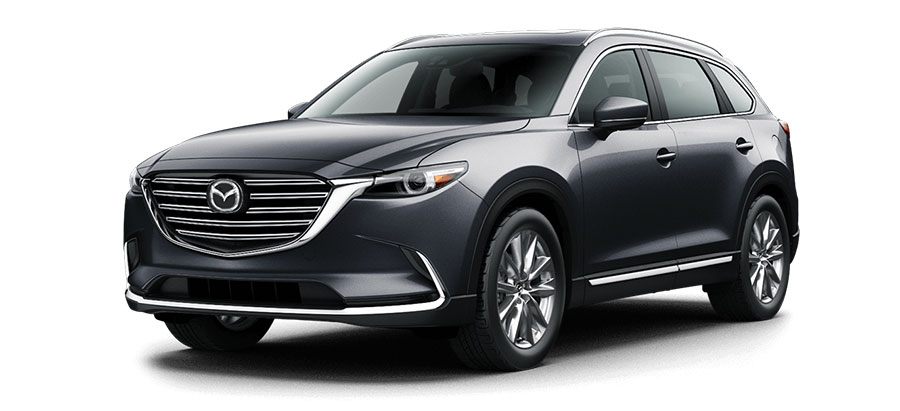 CX-9 Signature
The top-tier CX-9 Signature easily competes with more expensive luxury models, because of its high-quality materials, including rosewood trim, and sleek design. Inside, you'll find deep red leather upholstery for all-out passenger comfort. The Signature also comes with an array of safety aids, like the lane-keep assist system, which monitor your surroundings to help you avoid danger.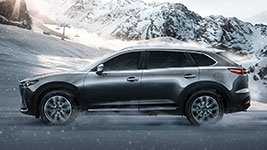 All-Wheel Drive
In the face of bad weather, the CX-9 delivers stunning performance and safety.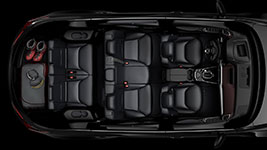 Three Rows of Comfort
The CX-9 offers room for the whole family – and then some.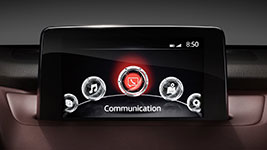 Connect Infotainment
The central touchscreen is your hub for smartphone integration features and more.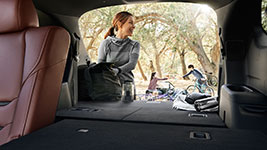 Versatile Cargo Hold
Fold the rear seats into the floor to haul anything and everything.
Conclusion
If you're shopping for classic comfort and premium power, there's no better pick than the 2016 Mazda CX-9. This mid-size crossover offers high-end style, with handsome trim and upscale leather upholstery, making you feel like you've spent big bucks on a luxury nameplate. As you cruise down the highway, you'll enjoy soft, supportive seating and a wealth of head- and legroom. From behind the wheel, the CX-9 feels powerful and responsive. When you need a little extra speed, the powertrain complies, and you can merge into highway traffic without issue.