2017 Mazda CX-5 vs Toyota RAV4

Toyota practically invented the compact SUV class when they debuted the RAV4 in the mid-90's. How has it held up? Here, we'll compare it to a similarly priced compact SUV, the 2017 Mazda CX-5. Has Toyota continued to innovate its design, staying ahead of this competitive pack? Or has the CX-5 surpassed it?
2017 Mazda CX-5 vs Toyota RAV4
INTERIOR COMFORT & STYLE: Mazda CX-5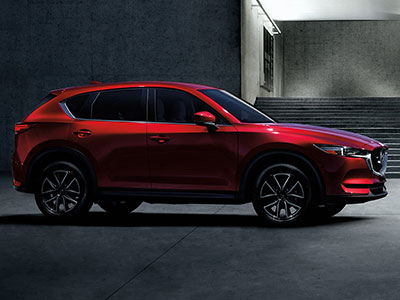 The Mazda CX-5 was newly redesigned for 2017. The CX-5 seats five along two rows in an upscale cabin full of quality materials. Its seats are comfortable, though those in the back may wish for a little more leg room.
The Toyota RAV4 has a quiet interior and spacious back seats that recline for maximum comfort. Unfortunately, its thin-profile seats don't provide much in the way of lumbar support, making long rides less comfortable for the driver. Due in part to its thin seats, the RAV4 has more cargo capacity, beating out the CX-5 by five cubic feet. However, the cabin is sparse and lackluster, riddled with hard plastics.
TECHNOLOGY: Toyota RAV4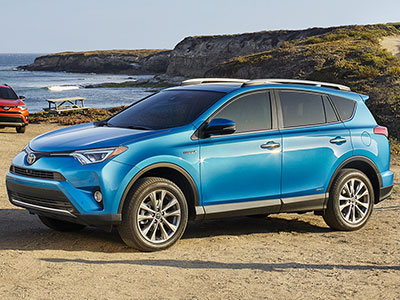 Though its Mazda Connect infotainment system isn't the best, the Mazda CX-5 hosts a ton of tech features right off the bat: Bluetooth, HD Radio, push-button start, 7-inch touch-screen, and voice-command activation. You can also opt for a convenient power liftgate, a tricked-out 10-speaker audio system, satellite radio, rain-sensing windshield wipers, navigation, moonroof, and proximity key entry. If you love technology and believe it makes your life better, the Mazda CX-5 will feel like coming home.
The Toyota RAV4 has the better infotainment system, though with a smaller screen at lower trims, but the vehicle is similarly techy with USB port, Bluetooth, voice recognition, and six speakers. Add-on options also include navigation, a 7-inch touch screen, Siri Eyes Free, satellite radio, HD Radio, an 11-speaker sound system, smartphone integration, a proximity key, push-button start, and a household-style power outlet. Going down the line, the two SUVs are similarly equipped but the Toyota infotainment system is more user-friendly and responsive.
PERFORMANCE & FUEL ECONOMY: Mazda CX-5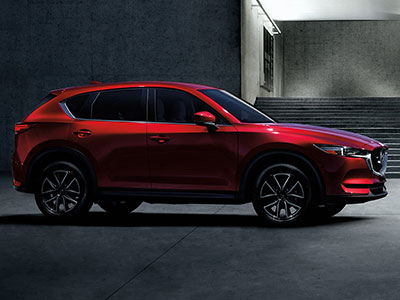 The Mazda CX-5 boasts 24/31 miles per gallon in terms of fuel economy and handles like a muscular car with a sporty feel, which is somewhat surprising in a vehicle as large as the CX-5. Its lively suspension and abundant horsepower make it a genuine thrill to drive.
Compare excitement to the Toyota RAV4 and you'll be deeply disappointed. Critics have described the suspension as "spongy" and the steering loose, which indicates that Toyota has abandoned sporty for practical. Unfortunately, that practicality doesn't translate at the gas pump like you might expect. The Toyota SUV only gets a disappointing 22/28 miles per gallon, though its acceleration and power are inferior to the gas-saving Mazda CX-5.
SAFETY: Toyota RAV4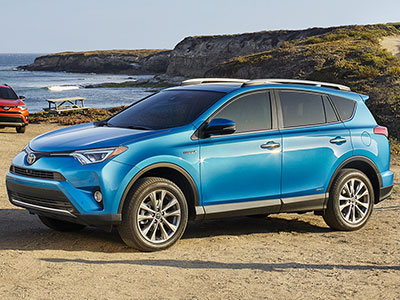 The CX-5 earned the IIHS Top Safety Pick+ distinction, making it the safest car in its class. Interestingly, the government safety test only gave it four stars even though the CX-5 passed nearly every test with flying colors. The CX-5 will like the many standard safety features, such as the new Smart City braking system, as well as other available active safety options, like adaptive cruise control, blind-spot monitor, and lane-keeping assist.
By comparison, the Toyota RAV4 scored a little low in the rollover and side impact tests, but still managed to earn an overall five-star safety rating. The RAV4 offers, as standard features, anti-lock brakes with electronic brake-force distribution, brake assist, rearview camera, pre-collision system with pedestrian detection, lane departure warning, lane keep assist, automatic high beams, and adaptive cruise control.
Learn More about the Mazda CX-5

The comfortable seating, upscale cabin, sporty performance, and superior fuel economy propel the Mazda CX-5 ahead of the Toyota RAV4. While Toyota may have been a trailblazer in the compact SUV segment, Mazda has outclassed them, especially in terms of handling, suspension, and performance.