2017 Mazda CX-5 vs Ford Escape

What happens when you put the two sportiest compact SUVs in a head-to-head? We'll find out as we review the 2017 Mazda CX-5 and the Ford Escape. Both are hailed as athletic cars that are a lot of fun to drive. Who will win in a race for the most muscular SUV on the road?
2017 Mazda CX-5 vs Ford Escape
INTERIOR COMFORT & STYLE: Mazda CX-5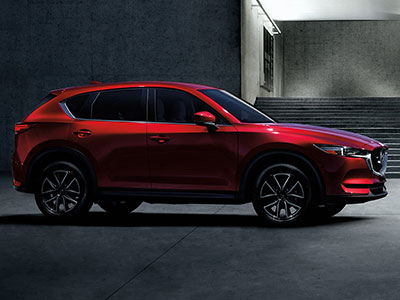 As everyone knows, it's what's inside that counts. The CX-5 has enough room inside for you and five of your friends. Put the shorter friends (or kids, if you've got them) in the back to maximize the comfort of everyone. Whoever rides with you will appreciate the upscale interior with its quality materials and you will marvel at the 31 cubic feet of cargo capacity. If it's just you and one passenger, you can fold down the back seat and double that storage space.
The 2017 Ford Escape also benefits from a renovated cabin, with quality materials, soft-touch surfaces, and new styling on the dashboard. The Escape has about as much cargo room as the CX-5 and long-legged passengers can fit in the back, even with reclining seats! But all of this upscale feel has an upscale price to match, which makes it challenging to recommend.
TECHNOLOGY: Mazda CX-5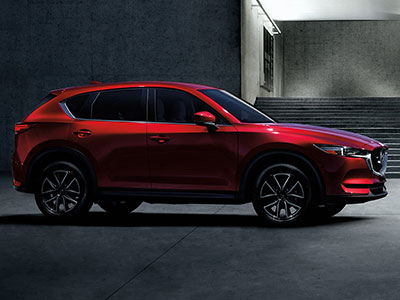 The Mazda CX-5 is known for its tech-friendly interior, and this model is no different. You'll find tons of standard options that make your driving experience even better, including things like: Bluetooth, HD Radio, push-button start, a 7-inch touch-screen infotainment system, and voice-command activation. If you really want to trick out your vehicle, you can opt for features like a motion-activated liftgate, satellite radio, rain-sensing windshield wipers, navigation, moonroof, and an entire package of active safety features.
The Ford Escape is also tech-friendly, with some of the same features but not all. One thing the Ford Escape does have, that the CX-5 doesn't have: Apple CarPlay and Android Auto for smartphone connectivity. Ford's Sync infotainment system is also voice-operated and you can also opt for the SYNC 3 upgrade. Though it comes with something the Mazda does not, the CX-5 is clearly the more tech-friendly choice.
FUEL ECONOMY: Mazda CX-5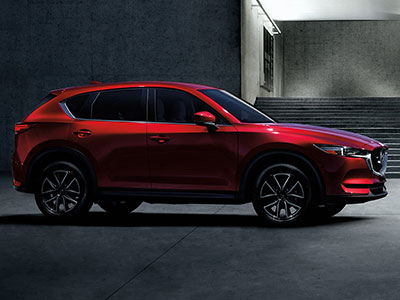 The Mazda CX-5 is the sportier SUV and you might pay a little for that pep at the pump. The CX-5 averages 24/31 miles per gallon and is often described as fun to drive, muscular, and athletic.
The 2017 Ford Escape gets 21/29 miles per gallon, not a huge difference. But the Ford's base trim is relatively weak compared to that of the Mazda CX-5. Its upper trims perform much better, but they cost up to thousands of dollars more than the CX-5.
SAFETY: Ford Escape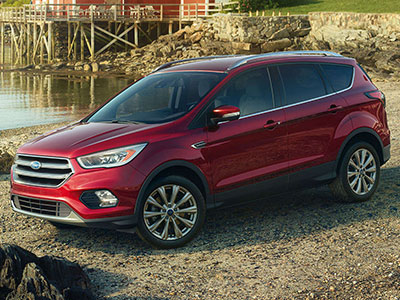 The Mazda CX-5 earned only four stars in the government's overall safety rating, but was awarded 2017 Top Safety Pick+ by the IIHS. Drivers benefit from a host of standard safety features, such as the new Smart City braking system, as well as optional features like adaptive cruise control, blind-spot monitor, and lane-keeping assist.
The Ford Escape earned top marks from government testing, with the exception of its small overlap front test; that means that colliding with a tree or pole might do more damage to an Escape than to another car. The Escape also comes equipped with lots of safety features, including, new for 2017, lane keep assist, driver drowsiness monitoring, automatic high beams, and assisted pre-collision braking system.
Learn More about the Mazda CX-5

The Mazda CX-5 gives you the most bang for your buck. Though the Ford Escape starts truly competing in the upper trims, the CX-5 is powered up and ready to go right out of the gate. Until you hit the turbocharged engine model, the Ford Escape isn't worth it–and then it might be out of your price range. If you want sporty athleticism without breaking the bank, choose the 2017 Mazda CX-5.