2017 Mazda CX-5

Now quieter and more comfortable than ever, the newly redesigned 2017 Mazda CX-5 is built for drivers who like to challenge the open road. Sharp steering delivers every time, and the interior of the 2017 CX-5 feels like an upgrade on every level, with its high-end cabin materials and new tech features.
2017 Mazda CX-5
If you're searching for an upscale cabin attached to an affordable price tag, you've definitely found it in the 2017 Mazda CX-5. After a full redesign, this peppy crossover has never felt so spacious and refined. The cabin design puts an emphasis on space, so even tall drivers will feel like they have all the head and leg room they need. The cabin is coated in high-quality materials, giving the CX-5 an air of refined style. The 40/20/40-spilt folding backseat makes it easy to expand the cargo hold however you want – and without completely sacrificing rear-seat accommodations. When you add the power liftgate, you can load and unload any load with newfound ease.
The 2017 Mazda CX-5 cockpit puts a ton of technology at your fingertips, but, soon enough, you'll wonder how you ever lived without it. Unlike in other models, where you have to pay extra for an upgrade, a crisp 7-inch touchscreen comes standard in every single CX-5 model. This technology is easy to use, and responds to your touch quickly, so you don't have to spend an irritating amount of time looking for the app you want. With up to four USB charging ports, you can plug all your favorite devices in and keep them charged during road trips.
The new CX-5 is built for your safety. This year, every single Mazda CX-5 model comes with a forward collision warning system that can automatically apply the brakes in low-speed situations. It comes in handy in stop-and-go city grids, where vehicles can jump out at you without warning. If you want, you can upgrade to a more sophisticated version of this technology that supplies emergency braking in any situation. In addition to this feature and Mazda's array of standard safety option, the CX-5's rearview camera also helps by offering an extensive view of what's behind you, so you can avoid unfortunate encounters with stray shopping carts or bicycles.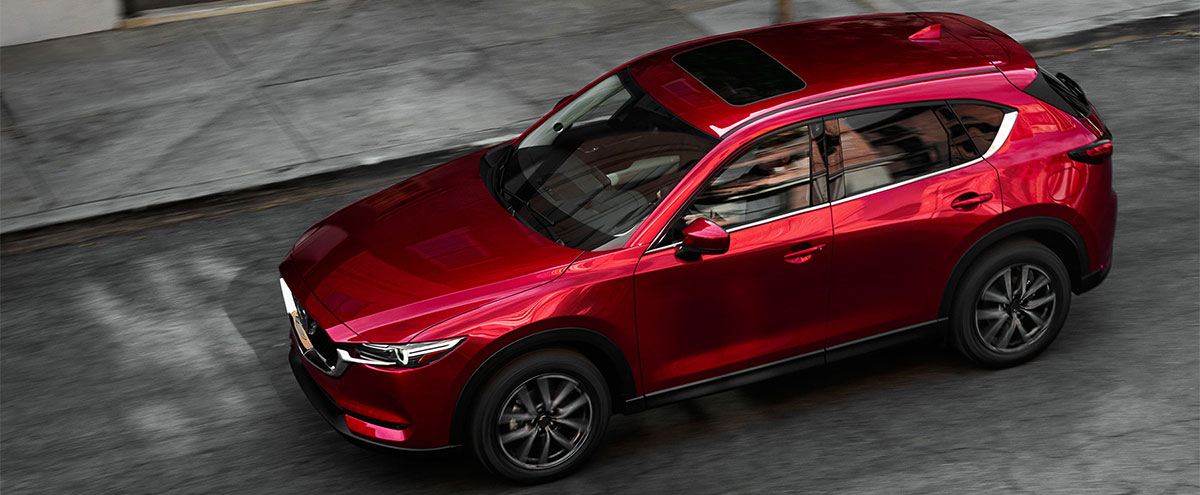 CX-5 Handling
Driving in the 2017 Mazda CX-5 is an experience unto itself. When you're cruising the open road, the cabin remains surprisingly hushed, not unlike a much more expensive model. Like its fellow Mazdas, the CX-5 has cultivated a well-deserved reputation for being super fun to drive. Steering is as sharp as you could want, so you can guide the CX-5 up and down steep, winding grades without any issue. The CX-5 also makes short work of tight city corners, and you'll guide this compact crossover into parallel parking spaces with complete confidence. Handling is another high point of the 2017 Mazda CX-5. It complies with your every whim, and even feels athletic around sharp corners.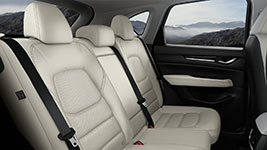 Rear Seat Comfort
Available options include reclining and heated rear seats, to keep passengers comfortable no matter how long the trip.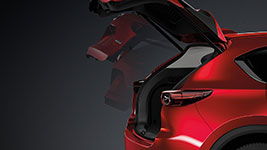 Power Liftgate
No key needed! Open from the inside with the touch of a button or the outside from your keyless entry fob.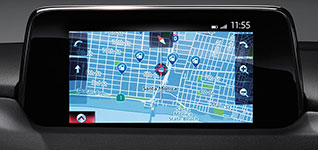 Active Driving Display
Thus feature projects important information onto the windshield in the driver's sight line, keeping eyes on the road at all times.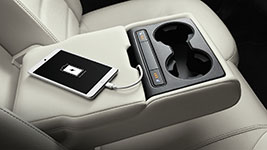 Accessible Charging Ports
USB charging ports available in both front and back seat locations, easily keeping everyone's devices at full power through the days.
Conclusion
When you take the new 2017 Mazda CX-5 out for a spin, you'll see exactly why this crossover has our stamp of approval. Its driver-centric steering and handling make your ride everything you want and need, with a luxurious cabin that delivers high-tech comfort and precision safety options. When you want a crossover that has everything you're looking for, look to the 2017 Mazda CX-5.