2017 Mazda CX-3 vs Toyota Corolla

With impressive performance and a similar price tag, the Mazda CX-3 and the Toyota Corolla are vying for your attention. Which one is the best choice?
2017 Mazda CX-3 vs Toyota Corolla
Interior Design & Comfort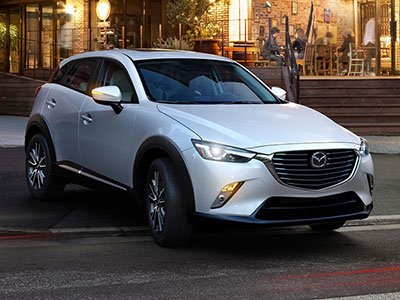 From a glance at the CX-3 cabin, you'd never know how affordable this model actually is. Mazda dresses this sporty crossover in high-quality materials, including handsome cabin trim and even leather upholstery. It's rare to find this level of interior finish in the compact family of vehicles.
While the Corolla's 50-year run has earned it a reputation as a vanilla grocery-getter, the 2017 model makes an effort to dispel that notion. Inside, you'll find luxurious details, like a leather-wrapped steering wheel, which add style to your commute and elevate this compact crossover to the next level. Perhaps more importantly, the Corolla provides adequate support for the long haul and more rear legroom than many competitors. Nevertheless, the Mazda is in a class by itself for interior design.
Safety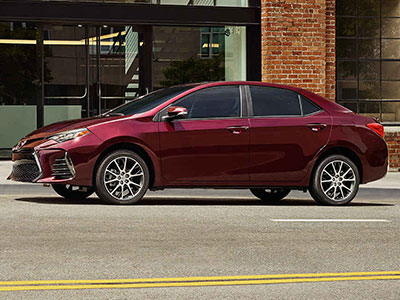 The 2017 Toyota Corolla might surprise you with its standard safety lineup, which includes features that often cost extra on luxury sedans. For example, the forward collision warning system, which identifies an oncoming collision and lets you know when you need to slow down, is standard on all Corollas. Another standard feature? The lane departure intervention system that automatically intercedes to keep you on the right track.
While the CX-3 might not include advanced driver aids in its standard lineup, you'll still find they're up for grabs. The i-Activsense package, for example, includes a forward collision warning system that can actively apply the brakes to help you avoid or mitigate damages. What all CX-3 models do get is a rearview camera, which makes backing up and parallel parking a snap.
Tech Lineup: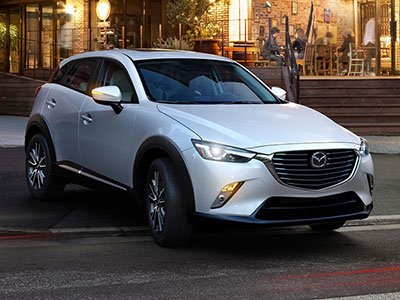 For ease-of-use and cutting-edge smartphone options, the CX-3 comes out on top. In addition to its crisp, responsive central touchscreen, you can also access infotainment options via voice controls. Oft-used features, such as audio controls, have their own physical buttons, so there's no need to sort through multiple touchscreen menus.
When you want to make the most of the Corolla's tech features, you should select the upgraded Entune infotainment interface. Spending a little extra gets you one of the simplest touchscreens available. You can even access smartphone apps – including Facebook and Yelp – through the system. These are extras, though, and the CX-3's thoughtful interface offers multiple ways to access information.
Performance & Fuel Economy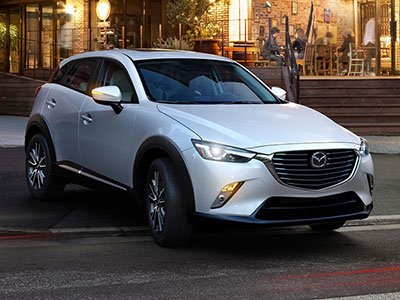 The CX-3 takes this category handily, leaving competitors in the dust with its fun-to-drive nature and balanced fuel economy. Settle in behind the wheel to experience the CX-3's precise handling and lightning-quick reflexes without worrying about fuel economy. This compact crossover is a segment leader, earning up to 29 city/34 highway mpg. Unlike the Corolla, the CX-3 offers all-wheel drive for increased safety over wet or icy pavement.
Still, the Corolla has definite appeal to those who want a smooth, comfortable ride. Sporty might not be its main selling point, but its long history of reliability coupled with its incredible fuel efficiency makes it a consistently attractive choice in the compact class. Depending on which powertrain you select, the Corolla earns up to 30 city/40 highway mpg.
Learn More about the Mazda CX-3

It might surprise you, but in our side-by-side comparison, the SUV wins out over the sedan. When you're looking for a compact car with oomph, the 2017 Mazda CX-3 gives you what you're looking for. Easy to maneuver, with sporty handling, expensive trim materials, and a high-tech entertainment system, the Mazda CX-3 is the right choice for someone who wants to combine luxury with economy for a great ride.