2017 Mazda CX-3 vs Nissan Rogue

The compact and subcompact crossover segments are particularly vibrant areas of the current auto market, which means as consumers we're pretty spoiled for choice right now. Japanese manufacturers are particularly strong in these segments, so let's see how two of the best measure up against each other by putting the 2017 Mazda CX-3 head-to-head against the Nissan Rogue.
2017 Mazda CX-3 vs Nissan Rogue
Styling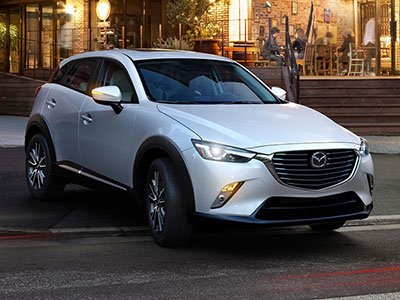 Forget about sizes, segments, classes, and types of markets–the 2017 Mazda CX-3 is one of the best looking vehicles on the road today. Sure, it's not a Lamborghini Huracan or a Ferrari 458, but vehicles affordable to most people just don't get much more attractive than this. Sleek, sporty, stylish, elegant; you could write a book on the wonders of the Mazda's exterior.
The Rogue is a lot more rugged and macho-looking than the Mazda, and it is a very attractive vehicle in its own right. Against any other model in the segment the Nissan might have a chance, but not here. If you're buying on looks alone, the CX-3 wins by miles.
Engines & Performance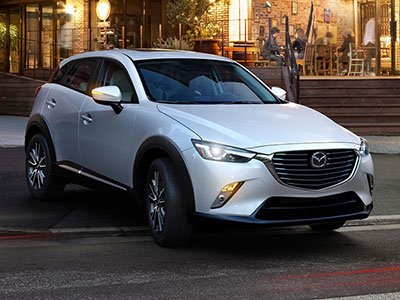 To match its performance to its looks, the Mazda would probably need one of those high tech performance hybrids under the hood or a twin-turbo V-6 at least. It doesn't have either of those, of course, but it does have a very capable 2.0-liter four-cylinder SKYACTIV. This unit is good for 146 horsepower and 146 lb.-ft., which doesn't sound a lot, but this is a high-tech unit that's a very capable performer and a lot of fun to drive.
You'll find a bigger, more powerful 170 horsepower 2.5-liter four cylinder in the Nissan, which would initially make you think it would be a better performer. Think again. The Nissan weighs almost 600 pounds more than the Mazda, so this unit is actually a little underpowered for the Rogue.
Fuel Economy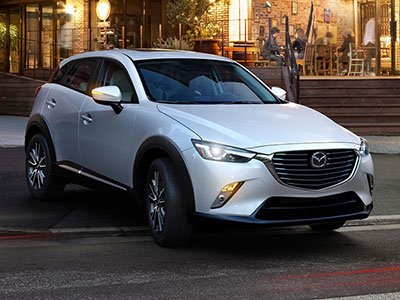 Subcompact means fuel-efficient, or at least it should. As far as the Mazda CX-3 is concerned, its best ratings from the EPA are as good as 29 mpg in the city, 34 mpg on the highway and 31 mpg combined for front-drive models. All-wheel drive variants are still impressive with 27/32/29 mpg.
Despite a bigger engine and a lot more bulk, the Nissan Rogue is almost a match for the Mazda in this area. The EPA puts front-drive versions at 26 mpg in the city, 33 mpg on the highway and 29 mpg combined. That still gives the Mazda a minute advantage, but a hybrid version of the Rogue is available if fuel economy is all-important to you.
Interior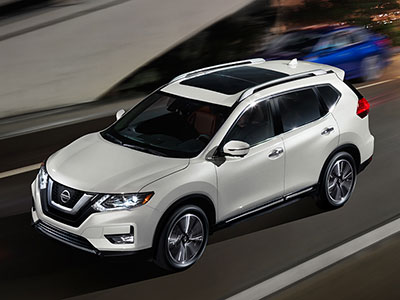 Despite its subcompact proportions, the Mazda has a decent amount of interior room, and back seat passengers have quite a bit more room that they do in the Mazda3 sedan and hatch. Otherwise, the cabin is almost identical to a Mazda3, so the quality of the fit and materials is about par for the course in this price bracket.
Inside the Rogue, the interior is far larger than you might expect because it's a bigger vehicle in every way than the Mazda. You can opt for an available third row, although only the smallest of small children will be happy back there for any length of time. The quality of the materials and the design is the big plus-point of the Rogue. Even the excessive cabin noise of previous versions has now been largely eliminated. The Rogue definitely wins when it comes to interiors.
Learn More about the Mazda CX-3

Even with a family of six or seven, you might still be tempted to try and squeeze the smallest ones into the trunk if it means you can have the Mazda. That's how good this well-designed, powerful subcompact SUV is. Yes, the Nissan Rogue is a very good vehicle with a great interior and lots of space. However, if you don't need that extra passenger and cargo capacity, the 2017 Mazda CX-3 will win you over every time. It's an agile, nimble and fun-to-drive little crossover, but it's also devastatingly drop-dead gorgeous to look at. And with MSRPs starting from under $20k, it's also an absolute bargain.