2017 Mazda 6 vs Ford Fusion

Two mid-sized sedans in a sea of sedans this size that want to win your love, the 2017 Ford Fusion and the 2017 Mazda6 are trying to woo you with their options. Compare the Mazda6 vs. Ford Fusion 2017 models with us today and drive off in your favorite!
2017 Mazda 6 vs Ford Fusion
Appearance and Standard Options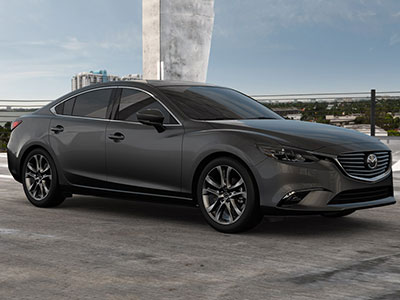 The 2017 Ford Fusion has some fun options, including a cool MyKey system that allows the driver to change the way the car performs for other drivers (think turning down the radio for your teenage driver and limiting the speed) and a thoughtful capless Easy Fuel Filler system that eliminates dirty, dysfunctional gas caps. The Fusion has the standard features as well, making it an attractive sedan with some cool options.
The 2017 Mazda6 is a beautiful car, sporty for a sedan and full of standard features that demonstrate Mazda's attention to detail. Halogen headlights with an auto off feature is nice, especially in a base model, as is the daytime running lights feature, but we like the stylish extras: body-colored side mirrors with integrated turn signals, dual exhaust with chrome details, and LED combination tail lights. Add 17-inch aluminum alloy wheels and this sedan is starting to feel a little, dare we say, sporty.
Interior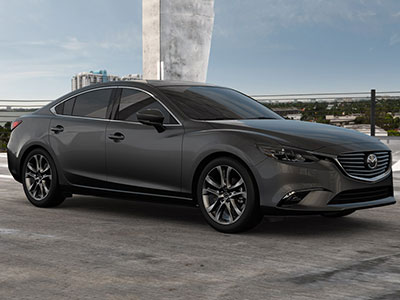 For the most part, the Mazda6 vs. Ford Fusion interior feel very similar in terms of its base interior package: 5 passenger seating, power windows and doors, filtered AC, cruise control, push button start, adjustable driver seats with lumbar support, similar voice-activated infotainment systems-the list goes on and on. We are impressed with some of Ford's additions, including the addition of an extra 12-volt plug in the passenger area (making a total of 3 for a 5-passenger vehicle) and the rotary shift dial, which clears up room for more storage near the driver.
But the Mazda6 edges out the Ford with the small touches, which make a real difference. A leather-wrapped steering wheel and shift comes standard, turning the cabin into a more luxurious ride, and that impression continues with their 7-inch touchscreen for the MAZDA connect infotainment system. They are small additions, but they make the interior of the Mazda 6 feel more like an upgraded trim.
Safety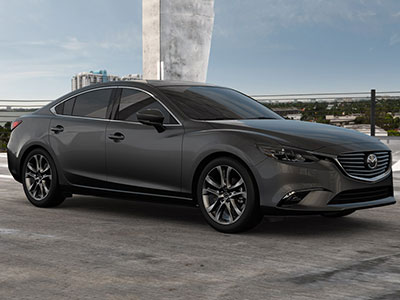 The Mazda6 has some impressive safety features on board, with daytime running lights and an advanced air bag system. Their stability control and traction control system and hill launch assist improve both performance and safety, and the rearview camera on that 7-inch display is bound to eliminate some scary encounters in the parking lot.
The Ford Fusion matches Mazda's safety elements with their Advance Trac system and rearview camera, as well as Hill Start Assist and anti lock brakes. The Fusion also offers driver and passenger knee airbags, a Curve Control system that automatically adjusts speed if the driver approaches a curve too quickly, a post-crash alert and a personal safety system.
Trim Options on a Budget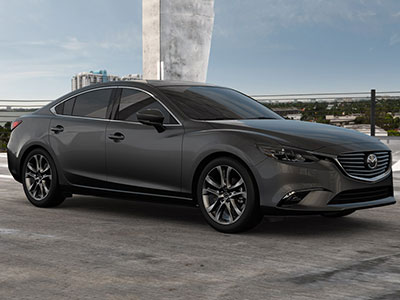 The Ford Fusion offers five trim options, the S, SE, Titanium, Sport, and Platinum. The Titanium, Sport, and Platinum options are over $30,000. The S and SE model are close in price but with very different options. For those who are looking to spend a little more, the Titanium, Sport, and Platinum offer consistently impressive levels of accessories, but vehicles over $30K are out of reach for many people.
The Mazda6 offers just three trim options, Sport, Touring, and Grand Touring, with a price range of $22,000 to $30,000. The standard options on the base Mazda 6 are impressive, which makes the $22K model a great buy on its own, something that can't always be said of a base model. The $30K Touring model is fully tricked out. Mazda is working to provide more value for the money.
Learn More about the Mazda 6

Both the Mazda6 and the Ford Fusion are solidly performing vehicles with good reputations, offering plenty of fun standard options to take the sedate out of the sedan market. But the Mazda6 is fun, sporty, and safe with plenty of options for the money, making it the all-around better choice. To schedule a test drive, to compare the Mazda6 vs. Honda Accord, or with questions, contact us!