2017 Mazda 3 vs Hyundai Elantra

The 2017 Mazda 3 and the Hyundai Elantra make a splashy pair: both provide classy comfort and rock-solid safety. If you're wondering which model is right for you, you're in luck – our side-by-side comparison is designed to help you make the perfect personal choice.
2017 Mazda 3 vs Hyundai Elantra
Fuel Economy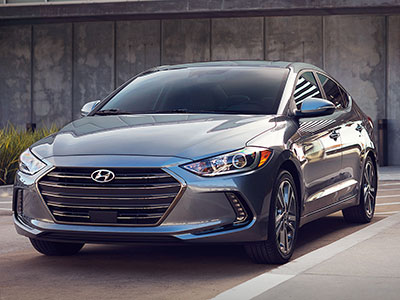 The Elantra excels in this department, earning up to 32 city/40 highway mpg and saving you a pretty penny at the pump. If you want to save the absolute most on gas, the Elantra is on your side.
Depending on which powertrain you select, the 2017 Mazda 3 earns up to 28/37 mpg. That means it's no slouch in the fuel efficiency department. If you can live with slightly lower EPA ratings, you'll be pleased to find that the Elantra is the faster of the two, making a great pick for highway commuters.
Safety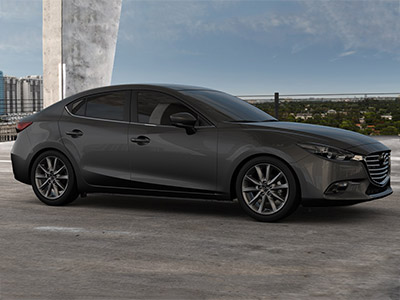 If you're shopping for a family-friendly ride, safety will be a major priority. Test-drive the Mazda 3, then, to discover the peace of mind you get with effective driver aids and impressive crash-test scores. The Mazda 3 earned the government's highest rating – five stars – for overall protection. If you fail to act in the face of a potential crash, the forward collision warning system employs automatic emergency braking to mitigate or inhibit damages.
The new Hyundai Elantra earned four stars for overall protection, which is a pretty good showing. Driver aids are also available for the Elantra, but slightly harder to come by. You have to purchase the top-tier Elantra Limited model as well as the Limited Ultimate package to enjoy the increased safety you get with forward-collision mitigation technology.
Cabin Comfort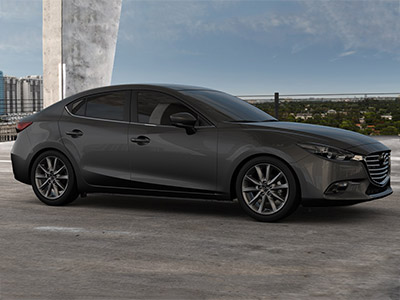 This year, the Mazda 3 adds a new level of luxury to an already-impressive cabin setup. Options like the imitation and genuine leather upholstery set the Mazda 3 apart from competitors, because they're standard equipment for all but the base model. In addition to the classy vibe you get with the Mazda 3's handsome upholstery, the front-row seats deliver best-in-class support. There's no better selection for heavy-duty commuters and road-trip advocates.
The Elantra seats are accommodating as well, impressing passengers with their snug support. In the Elantra, most trims come with cloth upholstery, so you don't get the upscale style that you find in the Mazda 3. However, that cloth upholstery is high-grade and soft to the touch.
Technology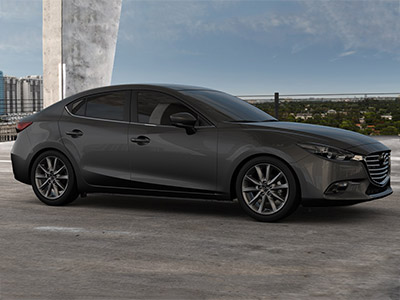 The Mazda 3 is a powerhouse of technology, with a standard 7-inch touchscreen that also includes a redundant knob-based controller. This controller comes in handy when you're in stop-and-go traffic and don't want to look away from the road to mess with the touchscreen. The premium nine-speaker Bose surround-sound audio system is audiophile-approved, putting a new spin on your favorite bass line.
The Hyundai Elantra offers Apple CarPlay and Android Auto, snazzy smartphone integration features that display your favorite apps directly on the Elantra's central touchscreen, making calling and texting quick and easy. However, you have to purchase the Popular Equipment package to get these features. This package also includes a 7-inch central touchscreen (which is something that comes with every Mazda 3 model).
Learn More about the Mazda 3

The Hyundai Elantra is a stiff competitor, but the 2017 Mazda 3 is our overall pick. It's an especially great choice for drivers who plan to spend hours on the move, thanks to its supportive seating, handsome leather upholstery, and refined cabin style. The Mazda 3 comes standard with a wide array of tech features and is also big on power, which it balances with thrifty fuel economy.