2016.5 Mazda CX-5 vs 2017 Toyota RAV4

Two Japanese companies, both with a reputation for quality vehicles for the price, going head-to-head in the SUV market. How does the 2016.5 Mazda CX-5 compare to its more famous counterpart, the Toyota RAV-4?
2016.5 Mazda CX-5 vs 2017 Toyota RAV4
Design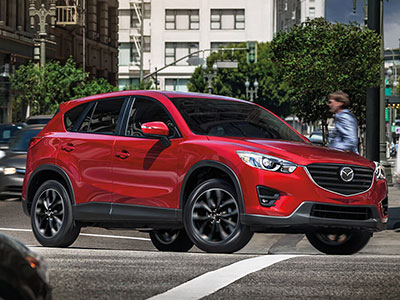 The Toyota RAV4 and the Mazda CX-5 have similar design features-17 inch wheels, shark fin antenna, and rear spoiler. The Toyota RAV4 adds a few extras, with privacy and roof rails for added storage.
The Mazda CX-5 also boasts an impressive, streamlined design-but it adds a little attitude. A five-bar grille and the upgraded body-colored side mirrors give the CX-5 a sportier look.
Entertainment Options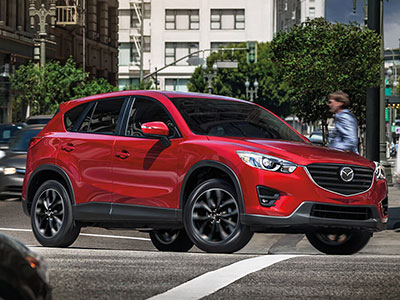 The Toyota RAV4 has a standard entertainment system that, against other models, would be vastly superior: 6-inch touch screen, 6 speakers, hands-free phone options, Bluetooth capabilities, CD and iPod options. Add a noise-reducing windshield to that combination and you're in for an engaging drive once the audiobooks or tunes start cranking.
The Mazda doesn't have as many speakers, but it has a ton more tech options that speak to the CX-5's superiority in entertainment. The Mazda CONNECT infotainment system is voice-activated, offers text audio delivery and reply of texts, and HD radio capability in addition to all of the standard stereo options. One addition to the Mazda CX-5, which has people singing its praises, is its Multifunction Commander Control, an easy-to-use knob in the center console that allows the driver to toggle between CONNECT functions without using the touchscreen. This, and the 7-inch color touchscreen display, puts the Mazda CX-5 in the winners circle.
Safety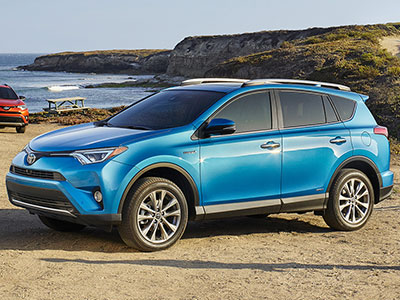 The Mazda CX-5 does a great job with safety-advanced air bags, brake assist technology, traction and stability control, and daytime running lights are just a few of the safety options that they have included. Side impact door beams help to protect against collisions as well.
The Toyota Safety Sense package, which warns of an upcoming collision, alerts drivers to unintentional lane swerving (and takes over the steering to protect the vehicle from collisions), and adjusts the vehicle's high beams automatically among other things, is an impressive addition to the RAV4. This system works hand in hand with the Star Safety system, which includes things like traction control and smart stop technology, and whiplash injury lessening seats. Safety ratings have come a long way, and though the RAV4 is impressive, the Mazda CX-5 is no slouch. We're waiting for the NHTSA to rate the 2016.5 Mazda CX-5, but we're crossing our fingers for good things to come.
Overall Value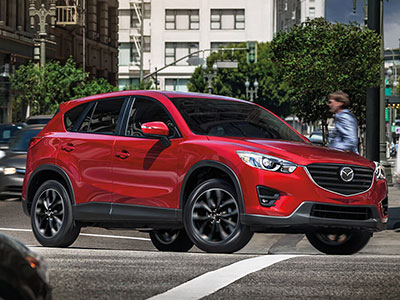 The Toyota RAV4 is a $25,000 investment, with a package of features and extras that are impressive but that drive the cost up. Since not everyone wants to enter the SUV market at close to $30K, it keeps the RAV4 questionable for those trying to stick to a strict budget.
We like the Mazda CX-5 model line because it offers drivers access to the small SUV market at a truly affordable price. The Sport model has a base price of $23K, and an even more entry-level manual option has an even lower price. Though the 2016.5 Mazda CX-5 hasn't been rated yet, the 2016 model does better than the 2017 RAV4 in fuel economy which adds to its value. With an EPA estimated 35-mpg highway efficiency and a host of entertainment and design options, that's an incredible deal.