2016.5 Mazda CX-5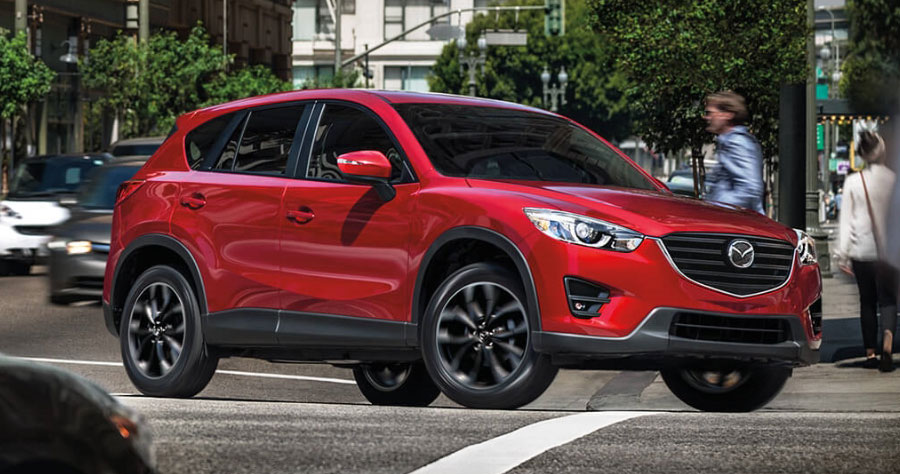 It's not a surprise Mazda would make a statement in the SUV world. Their sedans are known for being classy and powerful vehicles for the bold-minded. They took the same style and power, amped them up, and applied them to the CX-5. Now you can have efficiency, luxury, modern appeal, and space in one vehicle. Let's see why the CX-5 embodies all these qualities.
2016.5 Mazda CX-5
Cutting right to the chase, the CX-5 doesn't disappoint in the power department. It sports an elite 184 horsepower engine that still gives you 26 city/33 highway mpg. With the direct fuel-injection system, you can be assured quick and responsive acceleration while still being frugal on the fuel.
Mazda has decked-out the exterior with some great features to keep your CX-5 always looking sleek. The front has an available hood and fender paint-protection to keep your Mazda looking just as shiny as the day you bought it. There are available splash guards as well to make sure the muck of the road (or the wild) doesn't permanently scar the paint.
With an optional moonroof with wind deflector, you can gaze up at the stars and the brightest moon while reducing the amount of exterior noise coming in. This is perfect for family road trips or even taking that special someone on a romantic date. While on the subject of night driving, the auto-dimming feature on the rearview mirror is a must-have. With all of your garage inputs and security settings available at the touch of a button, this mirror can also dim itself automatically to reduce glare from the headlights of other cars.
The CX-5 can also come equipped with the latest in Mazda's safety technology. Your CX-5 will alert you when veering from your lane into traffic or off the road altogether. It can also adjust the speed and brakes when the vehicle senses an impending collision. This means that when your kids are distracting you from the backseat (which will inevitably happen) your CX-5 is still on the lookout to keep you and your family safe.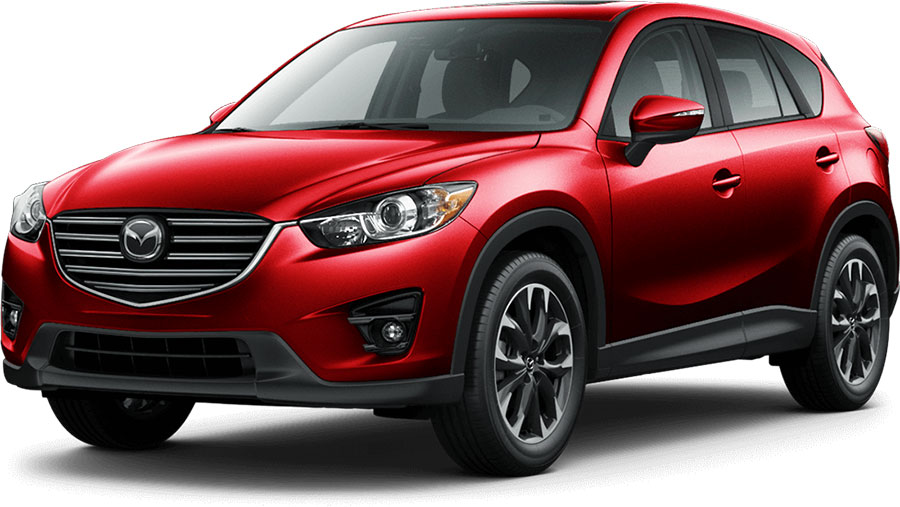 CX-5 Grand Touring
This is the top model in the CX-5 line and shows Mazda's pursuit for perfection. In this model, you'll find all your favorite music options with Pandora, Aha and Stitcher radio integration. Leather-trimmed sport seats with included seat heaters make driving a delight for you and your passengers. To truly feel the elegance of the Grand Touring, you have to drive it yourself.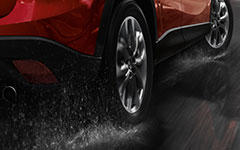 I-Active AWD
This advanced system actively monitors outdoor conditions and predicts when all-wheel drive is necessary.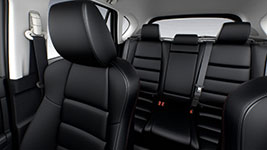 Ample Space
With loads of front and rear leg-room, space is not problem in the CX-5. Plus, there is also an available 40/20/40 split fold-down rear seat option.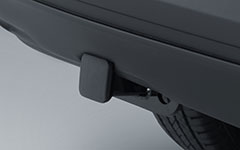 Trailer Hitch
The CX-5 comes with a class 1 rated trailer hitch that has a towing capacity of up to 2,000 lbs.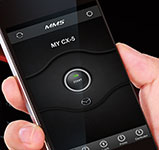 Mazda Mobile-Start
With the convenience of an app on your smartphone, you can lock and unlock your doors, start your vehicle, and even turn on your window defrosters, all without having to leave the comfort of your warm home. One-year subscription is included.
Conclusion
The CX-5, with its focus on safety (Mazda's collection of sensors to keep you on the road and collision-free) and style, you can be assured one of the greatest family vehicles that will make a statement to friends and family alike. A statement of more than just convenience in your drive, but innovation. Mazda doesn't disappoint when it comes to engineering their vehicles around providing you with the best driving experience. The CX-5 is yet another example of their success. Come in today and see the CX-5 in person!